Headshrinkers of The Amazon, directed by Osca Humphreys, went out in the UK on Thursday July 23rd 2009 on Channel Five… and is on NatGeo right now…
Headshrinkers is all about the Shuar people of Ecuador. The story is kickstarted by the discovery of some footage shot by an explorer in the 1960's – which looks like it shows the only known footage of a genuine headshrinking ceremony, with a real human head being shrunk to the size of an orange.
On the way to find out what is really going on in the footage Piers meets the President of the Shuar, a battalion of jungle fighting specialists, a Catholic missionary who campaigns against headshrinking by converting the Shuar to Christianity, oh and a member of a lynch mob who is happy to talk about the day they dragged someone off into the jungle and "turned him into powder"…
The programme got some great reviews: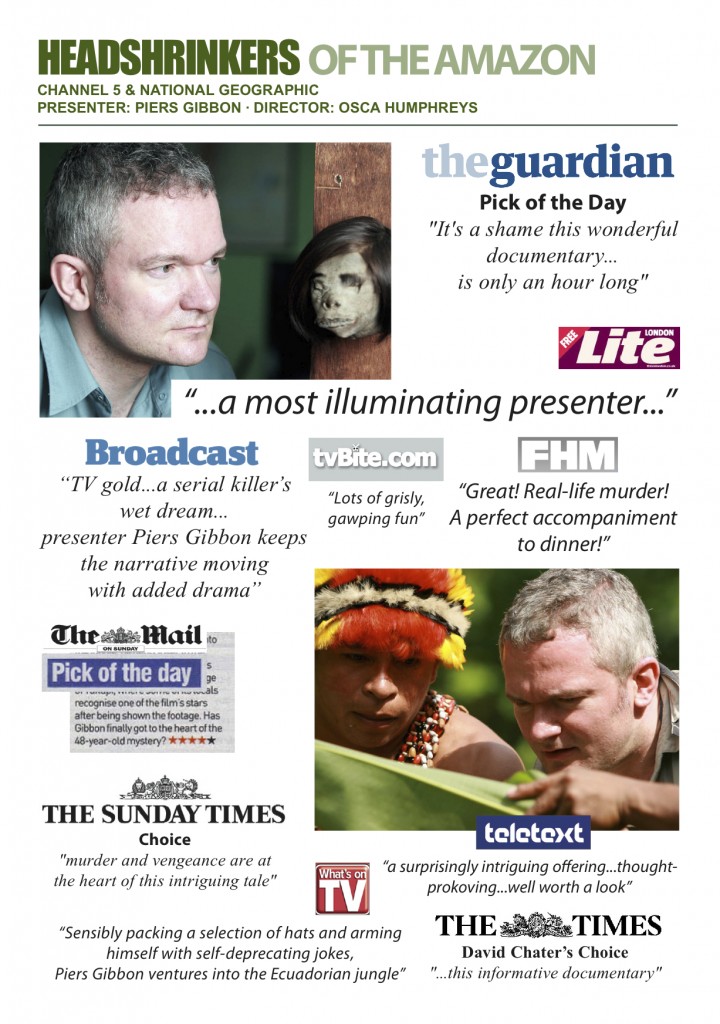 Some publicity:
Interview on Fox
The trailer on NatGeo:
…Interview on Real Radio…with the Real Guy Harris…
…Interview with Osca Humphreys and Piers Gibbon on Radio London:
How to shrink a human head:
NEW – Better version with the right music. Here are some favourite photos from the shoot:
Rocfoto took the best shots, and thanks to all the crew for taking photos on my Lumix LX3 as well. The music is a Shuar dance tune. Sadly, there was no room in the final edit for the Shuar dancing scene…
Credits
Director Osca Humphreys
Producers Kate Horne, Osca Humphreys
Presenter Piers Gibbon
Editor George Taylor
Directors of Photography Guillermo Galdos, Ian Watts
Original Music Glenn Keiles
Assistant Camera Cesar Perez
Sound Recordist Nick Walker
Junior Production Manager Amanda Barnes
Production Manager Deborah McTaggart
Researcher Olivia Simove
Head of Production Helena Tait
Executive Producers Judith Bunting, Ed Crick
Fixer Roc Cunyus
For National Geographic Channel
Exectutive Producer Michael Welsh
Executive Vice President of Content Sydney Suissa
A 2009 diverse Production Ltd in association with Five for National Geographic Channel
Thanks to everyone at Diverse TV and of course The Shuar for all their hospitality. Also to Richard Bielawski and the Bielawski family for the inclusion of the Bielawski Family Archive.
These shrunken head publicity cupcakes were specially commissioned by Dara Klatt of NatGeo!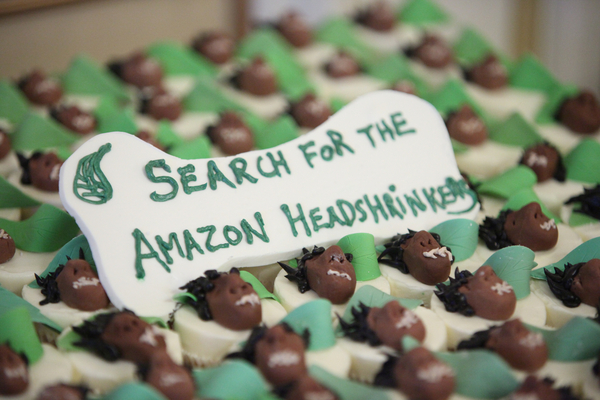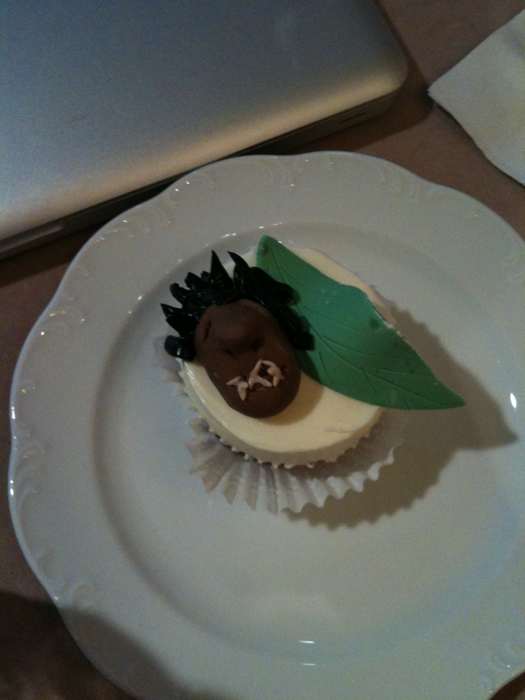 Here's an interesting article about someone trying to shrink the head of a roadkill bobcat click here
Here's a commercial for a Headshrinker toy:
FAQs…
Q: My family watched an episode of your Amazon show. After watching it, we then realized that we have one of those shrunken heads. My grandfather was in the military and was in Ecuador in 1960s & that is where he got it. Where can we take it to see how much it is worth?
A: Hi XXX
Thanks for watching Headshrinkers
I live in London so I don't know of any head dealers in your part of the world. Actually I don't know any head dealers anywhere! There was some new piece of legislation in the UK that meant trading in (even ancient) human body parts became a lot more complicated recently. I do remember hearing about someone who sold a shrunken head fairly recently in the USA so presumably it is still legal there.
Good luck with your search – and look out for Dining With Cannibals on NatGeo soon
Best wishes, Piers
I recently got a very interesting email from someone with a lot of experience in the area with some updates about the events we describe – thank you!
Piers:
I thoroughly enjoyed your documentary "Headshrinkers of the Amazon" and you certainly should be applauded on such a fine production.  I know how difficult it is to work in remote areas and understand the magnitude of the challenges you must have faced.
The mining works were made by MISANDA which was the company I managed for over 15 years.  MISANDA was not however "run out," the deposit was not economically viable. MISANDA left voluntarily – and I believe the locals wanted us to stay.  The spur road on which you traveled on Kushapuk was built by MISANDA in 1996.  There should have been a piece of machinery (trommel) next to a house close to the Kushapuk lake.  Over the years several groups (local and outsiders) tried to turn the lake into a tourist attraction.
Your guide mentioned that the military outpost at Santiago (Batallon de Selva 61) was established in 1995/1996 during the last conflict with Peru.  Actually not.  It was an outpost in 1940 that was supplied from La Union which is the confluence of the Namangoza and the Coangos rivers which form the Santiago.  The Santiago military outpost was supplied with the balsa rafts and many of these rafts and people were lost on each trip.  I assume the 1960's footage shows the rapids just below La Union and illustrates that previously mentioned.  The road to Santiago was completed in 1989 by the Brazilian firm Andrade-Gutierrez, before that we used to do exploration work in the region by air.  A notable place to visit on your next trip to the area is the Cueva de los Tayos which is up the Coangos river.  It a very large series of limestone caverns rich with history relating to the Shuar.  I was first lowered into these caves in 1990 and unfortunately much of the archeological remains had been pilfered.  These caves are where the Shuar would harvest the eggs of the Tayos birds which are rich in fat as they were used for food, oil for lamps and other products.  Near this area there are also a series of very large stones with drawings or carvings which apparently were maps or directions to guide early indigenous travelers.  These stones were well documented by our company and reported to the Ecuadorean Government as part of the legal obligation to report archeological finds.
It was interesting to work among the Shuar for over 20 years.  I studied their culture carefully, worked with them and managed to keep my head from being reduced.  I was very close to Juan Botasso, a Catholic priest who wrote many books on the Shuar and actually started the museum you visited in Quito.  He was instrumental in my introduction to the Shuar culture as well as he provided me with many insights on how to successfully interact with them.
Again, many thanks.
Sincerely,
Robert
You will want to read this article attached from the Saturday Evening Post; 11/22/1958 on Secrets of the Head Hunters and the story about Dr. Ferguson.  I met Dr. Ferguson in his ninety's and heard his lifelong adventures.   He passed on the legacy of his work to me and I have been continuing the research and development he started.  With our latest research we now able to find the active ingredient in Dr. Ferguson's anticancer formula,  called Amitosin.  Amitosin is made from plants in the head shrinking formula.  Dr. Ferguson brought back tsantas to the U.S. in the late fifty's.  As you will read he had to shrink a head to be accepted as a Medicine Man.  The Movie medicine man was based upon Dr. Ferguson's life story however true story was changed for Hollywood.

Thank you,

Charles Masinter